Adding colour and pattern in a bedroom is usually about introducing cushions, throws and window treatments, however a beautiful, upholstered headboard can become your showpiece. A colourful or patterned, fabric headboard can be the 'hero' in your space and the rest of your decor can evolve from this.
If you have admired upholstered headboards but a little scared at making one yourself, it is really is quite an easy process, especially if your not set on using fancy nail heads.
My
Upholstered headboard tutorial
can easily be adapted to any fabric, although I didn't nail head mine, nail heads do look great so I have posted a couple of links to tutorials below. Nail heads are definitely more sophisticated and suit a more glamorous bedroom. I found a nail head tutorial over at
My Decor Education
for a beautifully shaped headboard with double nail heads, and another tutorial for a simple nail head headboard at 'Just a Girl'.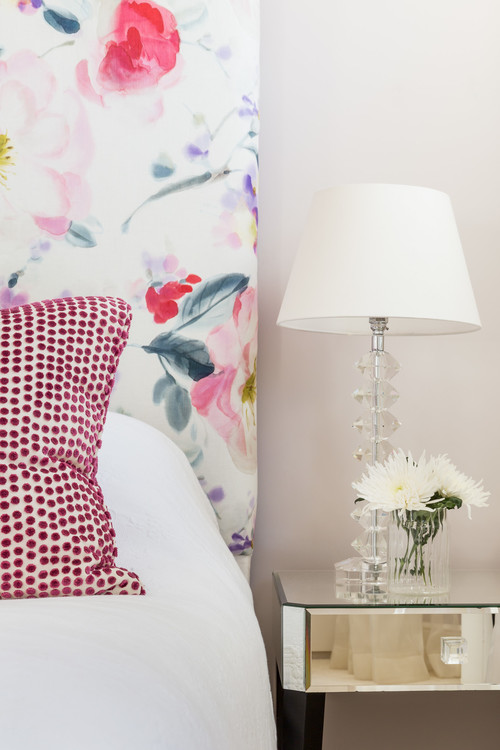 The nail heads complete the look with this fabulous pink upholstery - Photo by Michael J Lee Photography
Stripes look fabulous, especially in a coastal home or for a boys bedroom but remember if you are upholstering yourself, stripes and checks will be more difficult as you will need to get them very straight when you stretch the fabric over the foam - Image via Tim Barber Ltd Architecture
Image via Laura Wilmerding Interiors
Image via Laura Wilmerding Interiors
I hope these headboards have inspired you. I love the first one, blue and white floral with side wings. I couldn't find a tutorial for this shape, however you could always purchase a ready made one and recover it.