The past few weeks I have been focusing on rental properties with advice on curb appeal, home staging and photography tips for advertising, (links at the end of this post). Today I want to discuss decorating and furnishing a holiday rental, focusing on the living room. I will cover colour palettes, furnishing and decorative tips and my "go to" sofa that won't cost you an arm and a leg, believe me you can still have a gorgeous looking room even on a tight budget.
To successfully decorate and rent out a holiday home, first it should be located in a convenient, safe location. Whether by the beach, country or city, it must be a sound building (no leaks etc) and spotlessly clean. Today's post however, is not about renovating or fixing things up, but focused on decorating the interior. We will presume the renovating has been done and you are ready to furnish, however I do want to touch on paint colour and flooring.
Decorating a holiday rental means making it look welcoming throughout. However, today we are focusing on the living room, the remainder of the house will be covered in further posts.
When people search for a holiday home they will look at location first and then properties that catch their eye. Most will be drawn to places that are light, airy and well decorated. The ones that usually stand out have neutral palettes, comfortable furniture and are beautifully presented. Well designed interiors do not mean you have to spend a fortune, there are many options. It is about selecting the right pieces and how you pull them together.
In saying that, it takes more than just a beautifully furnished property to rent it out successfully. You also need to be a
knowledgeable landlord, so if you are new to renting you may be interested to read an informative post at Costello Realty and Management about ways of being a better landlord.
Paint Colours:
Paintwork should be kept neutral, a soft white throughout the house will make it feel spacious and future 'touch ups' simple. My favourite "go to" white is

Resene Double Alabaster, a bisque white, delicately shaded towards grey. I have used this in my studio and love it so much I want to paint my entire cottage with it. There are a myriad of whites out there so do a little research first but stay away from whites that throw blue, pink or mauve as every white has a coloured undertone. I definitely recommend you try samples on your wall and look at them at different times during the day. There is a great post on 20 Best white paint colours on Elle Decor that will definitely help you choose the right white.
Floors:
Polished, timber floorboards or high quality veneer or vinyl are best as floors need to be easily cleaned of sand if you are by the sea. There are amazing vinyls out there that look like real floor boards or you could opt for engineered floorboards, designed for DIY in mind. This can be your foundation to be able to use a few rugs throughout the house. I love sisal but in saying that I would advise against sisal or jute as they trap sand and dirt. You would be better off to use a synthetic look sisal, there are some fabulous indoor/outdoor, synthetic rugs that look like the real thing and cost a quarter of the price of sisal, however make sure they have a rubber backing.
Living Room:

This should be decorated with minimal furniture, yet made warm and welcoming. If you are in a coastal location it is nice to have a few nautical touches, but don't over do it, you don't want to fill the house with shells, yachts and anchors, less is best.The palette should remain restful so start with a basic sofa of a neutral colour, I prefer beige or light grey tones. You could add a couple of chairs upholstered in a pattern if you wish or keep these neutral, adding pattern and colour with cushions. Removable covers come in handy and are available on the sofa I am going to recommend. What is important is getting the place rented out so it needs to be beautifully decorated and well photographed to compete against other holiday homes in the area. Last week I wrote a post on how to photograph your holiday home which is a must read when you have finished your decor.
Start with a basic sofa or sectional depending on your space. A three seat is preferable, however a two seat can work if you add two chairs. Much will depend on the size and layout of your room so measure up and buy a 3 seat if you have space.
IKEA have two great sofas that will work for most decor styles. The Ektorp is only US$379 and comes as a two or three seat or sectional. What I love about this sofa is that it's not only comfortable, it comes with removable, washable covers, you can also purchase replaceable or extra covers which saves your sofa a few years down the track. I like their white, and light or dark beige for a foundation piece. If you are worried about the white or light beige being too light, you can use a throw for added protection. Remember, however these covers come off and are washable. The Ektorp is also available as a sofa bed which will enable you to offer an extra bed.

Another great priced sofa with a slightly more contemporary feel is the

Farlov Sofa, new out and comes in two colours with removable covers. I haven't personally sat on this sofa however so I cannot comment on comfort. This sofa is dearer at $699 but a reasonable size sofa 218cm long.
Above: The Ektorp from IKEA - Photo by Bemz Design who designed this gorgeous space
Above the Farlov Sofa in 'Flodafores Beige', more contemporary in design than the Ektorp - Image via IKEA
There is no need to match chairs to the sofa, you could use two matching chairs, either cane or upholstered, this will add more personality to the room. IKEA has some great rattan chairs or you could buy second hand. You could even jazz it up yourself with some black or white spray paint and have it looking as good as two cane chairs below.
Above: two cane chairs add punch and design flair to this space - Image via Tara Bussema
Above: An antique chair adds personality to this space and compliments the neutral sofa. Pattern can be introduced with a rug and cushions. A bookshelf is a great idea and can include a few decor pieces alongside, some holiday reading for your guests - Interior design by Kate Jackson Design
Coffee table:


This can be a second hand piece or new. Try to mix up your materials in the living room, If you have rattan chairs, you could opt for a metal table or two ceramic stools. Natural wood
adds a feeling of warmth. A while ago I turned an old wooden chest into a beach house coffee table for a client.
Above - I painted a plain wooden trunk, in a coastal look using a simple paint technique. I used an acrylic as I was demonstrating a specific paint, however Chalk paint works even better... Instructions here.
Other Furniture:
You could add a side table between or beside one of your chairs. Look for something to suit the style of your property. If it is coastal style, it could be wooden or rattan, if a city apartment you may want something a little more glamorous. Remember these pieces don't need to be from high end design stores, you can purchase second hand at on line auctions, or from places like Pottery Barn, Freedom Furniture, even K Mart. Make sure that you mix the materials in your room as a mix textures look inviting.
Above: These little side tables are very reasonably priced, I have two identical ones that I use as bedside tables in my guest bedroom. Image via Wickenden Hutley
Above: A rustic wooden side table is perfect for a country or beach rental - Image via Urrutia Design.
Soft Furnishing:
Cushions will pull a room together and are the best way to introduce pattern, colour and punch to your space. Blue and white, pale greys and beige tones look great in a coastal holiday home. Look for a few cushions in different patterns of the same tones. A country cottage looks smart in black and white buffalo checks or black and white stripes against warm, white walls.
Above: Pattern and colour can be added to a neutral sofa with cushions. I recommend blues, beige or light grey tones for a beach house. Image via Crowell & Co Interiors
Above: Buffalo checks and stripes in black and white depict a country look - Image via Pinterest
Decor Pieces:
It is the little things that pull a room together and add personality and charm, however it is important not to overdo these or you will end up with a room that looks cluttered. One or two pieces is all that's required.
You could place a plant on a coffee table or side table and maybe a couple of nice books beside it. If you are unable to have live plants then you could use realistic faux ones that look just as good.
Above: A few books and a plant are all you need on a coffee table for it to look inviting - Image via Butter Lutz Interiors
Above: Succulents look fabulous in coastal homes and require little water, however you can buy faux succulents - Image via Luxe Studio Design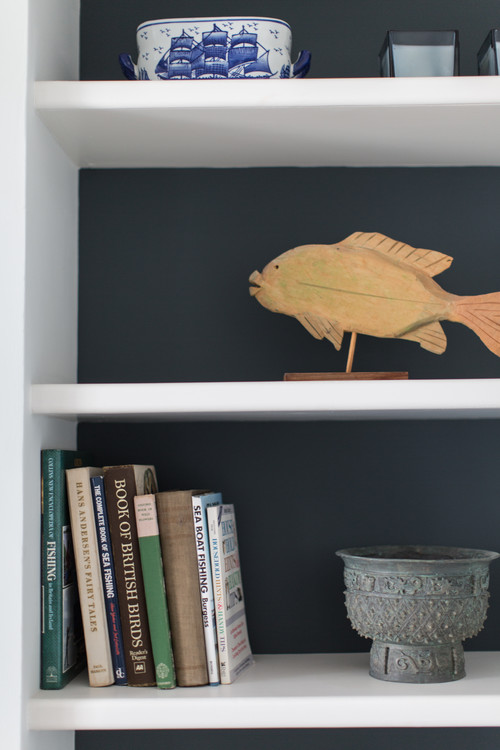 Above: If you have a bookshelf, you can place a few decorative pieces beside your books or stack a few books upright and place a decorative item on top. This could be a large shell, bowl of shells or a candle. Remember, "Less is best" - Image via Wickenden Hutley
Above:
I
mage via
Amber Interior Design
Lighting:
Lighting style is a personal choice depending on the style of your rental, however alongside your main overhead lighting, I would add a reading lamp. You could have one on a side table or free standing.
I have pretty well covered the living room, I realise a lot of living spaces are open plan, however you can get tips in my next post for the kitchen and dining spaces and how to tie them together. It is an idea to look at images of well designed spaces on Houzz or Pinterest for more ideas, however, you should have the basics of being able to furnish the living space on a limited budget and have it looking very upmarket.
Posts you may also be interested in: